Local residents get free medical service
14/01/2017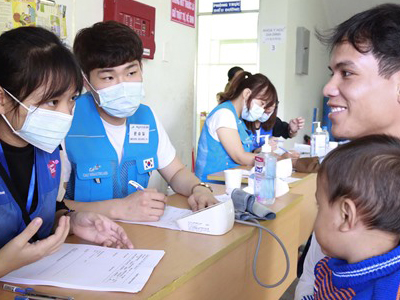 QUẢNG NGÃI — A volunteer medical team from Chung Ang University (CAU)'s hospital–in collaboration with Doosan Vina Heavy Industry of Korea–provided free examinations and medicine to 2,500 residents in the central province as part of the 8th annual medical service from January 9-14th.
The team of Korean doctors supplied needed medicines, diagnoses and treatments for residents of Bình Sơn and Trà Bồng districts during the six-day collaboration between Chung Ang University and Korean Heavy industry Doosan Việt Nam Company.
Students and volunteers from Korea will also offer calligraphy, pottery, origami, and other painting skills for local children in Lý Sơn Island and Minh Long districts of the province on January 15-23.
In 2016, 2,500 residents in Bình Sơn and Minh Long districts received a free medical check-up, drugs and equipment from the medical programme.
Korean professors and students from Chung Ang University also joined a Corporate Society Responsibility (CSR) programme for primary school students and children with disabilities in Bình Sơn, Trà Bồng and Nghĩa Hành districts last year.
According to latest report, 27,000 people in the province have received medical exams and been given medicine to help correct their aliments, at a total cost of US$600,000 since the 1st medical CSR between Doosan Vina and Chung Ang University was introduced in 2008.
Since 2008, Doosan Vina donated over $6 million for its Vietnamese CSR programmes. — VNS