Patient satisfaction is top priority: Prime Minister
16/01/2017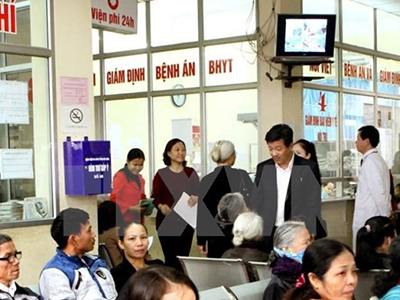 HÀ NỘI — Shoring up medical services at the grass-roots level and providing health services to all the people will remain the focus of the health sector in 2017, Prime Minister Nguyễn Xuân Phúc has stated.
The PM made the statement while attending the Health Ministry's conference in Hà Nội yesterday aimed at setting out tasks for 2017.
He lauded the achievements of the health sector last year, including the work undertaken in the preventive healthcare field. No outbreak of any disease took place in 2016.
Efforts were made to ensure that major hospitals were not overcrowded and people could access improved medical facilities, he said, adding that the capacity of human resources also increased.
He highlighted the fact that 61 per cent of the population was brought under health insurance in Việt Nam last year, surpassing the goal set for 2020.
He pointed out to the progress made in health financing mechanism and food safety and putting in place a mechanism for drug auctions. He informed that 6,000 medical staffers face punitive action in cases of wrongdoing.
Phúc also talked about the shortcomings in the field of healthcare, including cramped hospitals, which has become a pressing issue, and medical accidents on account of negligence and incompetent medical workers.
According to the Prime Minister, hospital management remains weak, with many associated services, such as taxis, food and beverage provisions marred by some kind of monopoly. Patients had to suffer due to bureaucratic red tape. Construction work of many centrally run hospitals has fallen behind schedule.
He pointed to various vested interests and lack of transparency in purchase of medical equipment and mismanagement of medicine market, and cited the example of a clinic in Cà Mau that reported a loss of more than VNĐ100 billion (US$4.4 million).
He underlined that urgent measures were required to bring down the prices of medicines.
Phúc urged the sector to strive to simplify its administrative procedures in 2017, adding hospitals should make public facts about their performance and service quality.
The sector has to focus on the project to enhance the quality of medical tests and expedite the construction of centrally run hospitals, he stressed.
He said the Health Ministry ought to facilitate the establishment of non-public medical facilities and pilot operating public-private units.
Expanding the health insurance footprint in line with improved service quality was also a must, he added. — VNS
Read more at http://vietnamnews.vn/society/349654/patient-satisfaction-is-top-priority-prime-minister.html#oGFoEdUBxDzmdt2z.99